Traditional social media outlets no longer offer the exciting edge that brands desire. Well-established apps like Facebook and Twitter are now seen as traditional, dependable, and most of all, old. As this happens, new social media platforms are born that cater to a younger user base. Instagram and Snapchat are both examples of a platform utilizing new interfaces and features that aim to capture the attention of the youth. TikTok is the newest iteration of this. Utilized by 44% of Gen Z, TikTok is the trendy, energetic, and avant-garde social media platform that Gen Z and Millennials are flocking to. 
Gen Z On TikTok
Gen Z's primary reason for joining TikTok, namely creativity, is reflected in the types of accounts they follow and the content they consume. Comedy accounts are a clear frontrunner with 78% of Gen Z following at least one comedy account. Fashion is much larger for Gen Z than their generational counterparts, with over 50% of Gen Z following at least one fashion account. However, brand accounts are one of the lowest – followed by only 26% of TikTok users. So how can brands leverage this ballooning platform to market to young consumers while still upholding their brand image?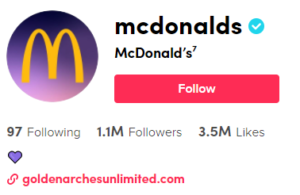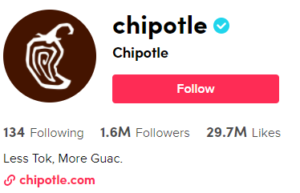 How Do Other Brands Leverage TikTok?
Let's look at two of the most successful brand accounts on TikTok, McDonald's and Chipotle, and how they have leveraged TikTok to amass sizable followings. Both brands use content such as comedy to remain relevant to young consumers and still maintain an emphasis on their business offerings. Chipotle recently released a collaboration with brand e.l.f. for a makeup palette based on a burrito bowl. McDonald's has gone viral using comedic and relatable content. This video, showcasing the new Crispy Chicken Sandwich, shows how a brand not taking itself too seriously can appeal to both Gen Z and Millennials. 
It also helps that both brands' offerings are relatively inexpensive. $30 is the median spent by TikTok users on a purchase driven by TikTok and over 40% of all purchases are under $25. 48% of all TikTok users say they've bought a product or service based on an advertisement on the app and 47% say they've purchased something based on an influencer on the platform. Daily TikTok users are even more receptive: 58% have purchased a product based on an ad on the platform and 57% have purchased something off the recommendation of an influencer.  
Next Steps
The landscape of social media is constantly changing and brands must continue updating their strategy to reflect this. TikTok is essential in capturing the attention, and wallets, of younger consumers, but effectively leveraging the platform can be tricky. Posts and videos that once were successful just a year ago no longer remain relevant to young consumers' evolving interests. At Legacy, we provide you with guidance to ensure your brands are successfully navigating the landscape of social media. For more information or to connect with our team, click here.